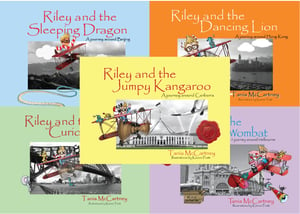 $

16.95
The Riley series of travelogue picture books are for little adventurers aged 3 to 8 (and big kids, too).
Featuring gorgeous black and white photos of Canberra, Melbourne, Sydney, Hong Kong and Beijing, Riley and his collection of kooky animal friends scour the sights of each city, showcasing each at its very best.
Hilarious illustrations, adorable characters and an adventuresome storyline create a cultural journey, too - with animals, foods and other concepts endemic to each city in question.
"It's a superb book and a brilliant series concept - can think of a least a dozen kids I'd love to give it to who'd get so much from it." - author Jackie French
For more information, reviews and Teachers' Notes, see www.taniamccartney.com.
PLEASE NOTE POSTAGE COSTS BEFORE ORDERING. YOU WILL NEED TO SEND EXTRA POSTAGE FOR MULTIPLE COPIES. AUSTRALIAN SHIPPING is $3 per book for up to three copies, $8 for four to five books or $14 for six to fifteen books. Extra shipping funds can be sent by paypal to books@taniamccartney.com.
SOLD OUT Riley and the Jumpy Kangaroo: A journey around Canberra
(Ford Street Publishing, A$16.95, 9781925000023)
Riley and the Grumpy Wombat: A journey around Melbourne
(Ford Street Publishing, A$16.95, 9781921665493)
Riley and the Curious Koala: A journey around Sydney
(TM Press, A$16.95, 9780980475036)
Riley and the Dancing Lion: A journey around Hong Kong
(TM Press, A$16.95, 9780980475029)
LIMITED STOCK Riley and the Sleeping: A journey around Beijing
(TM Press, A$16.95, 9780980475005)
Please contact me directly if you would like books sent overseas.
Please do leave a note if you would like the book signed to anyone in particular. The real Riley can also sign the book!